Wisconsin's #1 Fish Fry
Wisconsin's best Friday fish fry
Looking for the perfect fish fry to kick off your Friday night? Jose's Blue Sombrero has you covered! We offer a delicious meal of fried cod hand-dipped in Dos Equis Amber and served with your choice of flour or corn tortillas and your choice of waffle fries or rice. Jalapeno tartar sauce, chipotle cream sauce, lemon wedges, shredded Monterrey Jack cheese, lettuce, pico de gallo, coleslaw, red salsa, green salsa, tortilla chips and cookies are all included with every order. Our fish fry feeds 4-5 people!
Friday Fish Fry Tradition in Wisconsin
How did the fish fry tradition start in Wisconsin? The Catholic church altered its guidelines in the mid-1960s regarding the requirement to avoid eating animal meat every Friday of the year. The new rule only necessitated abstinence from meat on Fridays during Lent. Nevertheless, by that point in time, the tradition of "going out for fish" on Fridays had already become an essential part of Wisconsin culture. The Friday night fish fry is a popular-year round tradition in Wisconsin among people of all religious backgrounds.
$74.95
Get 20 pieces of Mexican-style breaded cod and your choice of fries or rice to feed the whole family. This Friday order takeout at any of our three Southeast Wisconsin locations and try it yourself.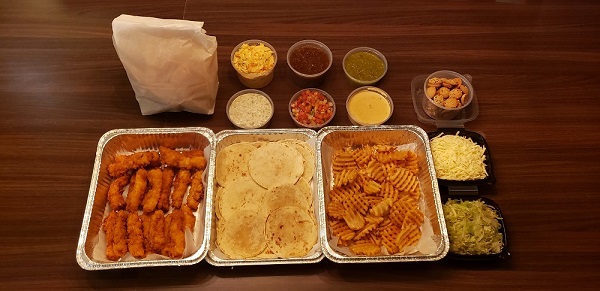 Jose's Blue Sombrero Takeout Menu
Our takeout menu has a variety of family meal options meant to serve 4-5 people each. Choose from tacos or fajitas that will satisfy even the hungriest family. Give us a call for more information, or order from any of our three Southeast Wisconsin locations. All meals include sides such as:
Chips & Salsa
Rice & Beans
Cheese, lettuce, sour cream
& of course, the tortillas!
Family meal options are also great for parties! Have your event catered by Jose's, or let us host your group in one of our private dining rooms. No matter what you're celebrating, we can provide the best food and location to get the party started.