Order takeout from Jose's Blue Sombrero
Our entire menu is available for takeout ordering, with curbside pickup too! We've got express pickup available if you really need to quench those taco cravings. Just because you can't eat with your friends, doesn't mean you can't eat well.
We adhere to health & sanitary regulations and have added extra steps to ensure your takeout orders are as safe as possible.
$74.95
Get 20 pieces of Mexican-style breaded cod and your choice of fries or rice to feed the whole family. This Friday order takeout at any of our three Southeast Wisconsin locations and try it yourself.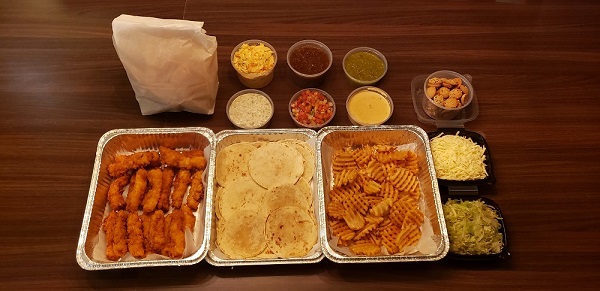 Wauwatosa
Order Online! Or call to order
Racine
Order Online! Or call to order
Fox Point
Order Online! Or call to order
Food for the whole family (and then some)
Feeding the whole family just got easier: we're offering fajita bars, taco bars, and fried fish as part of our bulk take-out menu. Order multiple family meals to feed more, or save the leftovers! Call for more info or to place your order to go at any of our locations. We may not be open for dine-in, but we'll always support tacos for all. Meals typically feed 4-5 people and include sides/additions depending on the dish, like:
Chips & Salsa
Rice & Beans
Cheese, lettuce, sour cream
& of course, the tortillas!