Jose's Blue Sombrero Gift Cards
The gift that keeps on giving is a gift card to any of our Mexican restaurants throughout southeast Wisconsin. Not only are you giving your family member, coworker or friend an opportunity to stop into Jose's (on you), you're giving them an unforgettable experience at any of our locations. Gift cards can be applied to our 6-day happy hour, daily specials, traditional meals, cocktails, appetizers, tableside guacamole…anything, at any location, on you.
It's so good, almost makes you want to buy one for yourself. Go ahead, we won't tell.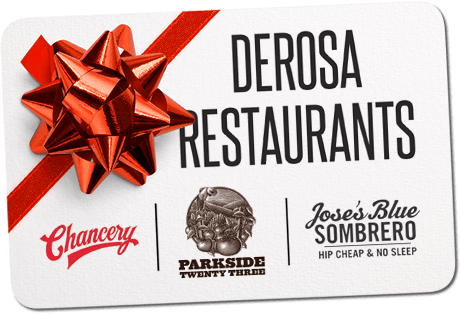 Last-minute gift ideas
Purchase your restaurant gift card online
That's right, we offer gift card purchasing online so you don't have to schlep over to one of our locations just for a card—though you'll probably stay for a drink or two, and be honest, you deserve it. That means all the last-minute shoppers can rest easy knowing their future gift-receiver is going to get a gift card to one of the best Mexican restaurants around Milwaukee.
yum.gifts